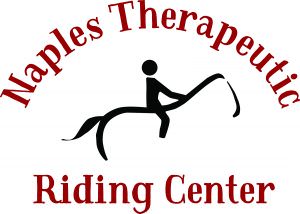 Naples Therapeutic Riding Center (NTRC) is a non-profit 501(c)3 organization offering therapeutic riding for Collier County, Florida adults and children with disabilities. NTRC is a PATH International (Professional Association of Therapeutic Horsemanship International) Premier Center. A Premier Centers must meet stringent safety standards and have achieved excellence in providing quality equine-assisted activities. Our approval as a Premier Center ensures that NTRC has been carefully scrutinized and has met the accreditation requirements in the areas of administration, facility, and programs. We are very thankful to our volunteers, rider families, and staff who made this accreditation possible!
NTRC's mission is to improve the lives of children and adults with special needs through therapeutic riding and other equine-related programs.
At NTRC, we offer equine-related activities and therapies that address the physical, mental, and social challenges our riders face. Our riders come to us with special challneges such as cerebral palsy, Down syndrome, stroke, autism, amputations, spina bifida, traumatic brain injuries, multiple sclerosis and a wide range of emotional, learning and developmental disabilities.
For individuals with impaired mobility, horseback riding gently and rhythmically moves their bodies in a three-dimensional motion, simulating the natural walking gait of humans. In addition to the physical benefits of riding a horse, our lessons are designed to help riders mentally focus to practice using their concentration in ways that very often do not come naturally to them.
Benefits of Equine Assisted Activities & Therapies
Cognitive Improvements
Improves Concentration & Focus
Relaxation of Muscles
Improvement in Posture & Balance
Increases Joint Mobility
Improves Spatial Orientation
Improves Fine & Gross Motor Control
Improves Hand-Eye Coordination
Improves Social Interaction
Builds Self-Esteem, Self-Confidence & Self-Control