Banjo
Breed: Warmblood
Sex: Gelding
Owner: Naples Therapeutic Riding Center
Year Foaled: 1995
Banjo recently joined the NTRC herd. He was donated by Margaret Dwyer of Fort Myers. Banjo has experience in Dressage, hunter/jumper and Western pleasure as well as teaching young riders as a lesson horse. Banjo is a big, handsome gelding and seems to enjoy his new job at NTRC. He is very friendly, loves people and attention.
Therapy Horse Service: Since 2012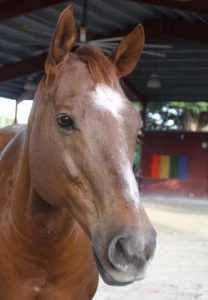 Pooh Bear
Breed: Quarter Horse
Sex: Gelding
Owner: Naples Therapeutic Riding Center
Year Foaled: 2000
Bear was donated to NTRC by Heather Cleckler. Formerly a ranch horse, Bear has a laid back personality that is just perfect for our program. He has a big heart and loves the attention he gets here at NTRC. Bear is definitely becoming a favorite with our participants and volunteers. All of us at NTRC are confident he will be a great addition to our herd, and we look forward to many years of service.
Therapy Horse Service: Since 2016
Bella
Breed: Belgian
Sex: Mare
Owner: Naples Therapeutic Riding Center
Year Foaled: 1998
Bella recently joined the NTRC herd and is already a favorite in the barn. She is a gentle mare that loves to work and be involved. She has competed in driving competitions in the past as well as lesson horse for beginner riders. Bella has a very "feminine" mustache that she wants everyone to notice. Bella enjoys her special job as a therapy horse at NTRC. She has the ideal build to provide a safe mount for our riders and is an excellent therapy partner for equine-facilitated activities.
Therapy Horse Service: Since 2012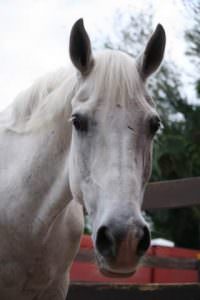 Dexter
Breed: Arabian/Welch
Sex: Gelding
Owner: Naples Therapeutic Riding Center
Year Foaled: 2002
Dexter was donated to NTRC by Jackie Watskin. Jackie showed Dexter extensively as a hunter throughout Florida under the show name "Space Ghost." Dexter has an inquisitive personality and loves all the activities and attention he gets here at NTRC. Dexter is fast becoming a favorite with both the volunteers and riders.
Therapy Horse Service: Since 2017
Majesty
Breed: Morgan Cross
Sex: Gelding
Owner: Naples Therapeutic Riding Center
Year Foaled: 1996
NTRC purchased Majesty from Melissa Wyant in January 2014. He was previously ridden by Melissa's daughter as a 4-H pony. Majesty has competed in 4-H shows and was used for trail riding. He is small in size but has a very big heart. Majesty loves people and always wants to be in the thick of things.
Therapy Horse Service: Since 2014
Peppermint Patty
Breed: Pony of the Americas (POA)
Sex: Mare
Owner: Naples Therapeutic Riding Center
Year Foaled: 1998
Patty was donated to NTRC by Jessica Reuthe. Jessica owned Patty for 10 years and used her as a lesson pony in her hunter program in Kentucky. As a lesson pony, Patty did extensive showing in the pony hunter division. Patty was instrumental in Jessica's lesson program teaching children of all ages to ride. We are very fortunate to have this wonderful mare in our program.
Therapy Horse Service: Since 2015
Pick A Spot "Pickett"
Breed: Leopard Appaloosa
Sex: Gelding
Owner: Naples Therapeutic Riding Center
Year Foaled: 1990
Pickett takes great pride in each of his 512 spots! He may be smaller in size than some of the other horses, but he has a very big heart and loves his job at NTRC. He is the perfect size for all the little peanuts that ride at NTRC.
Therapy Horse Service: Since 2006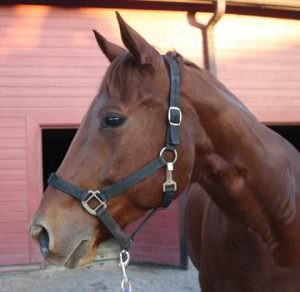 Red
Breed: Appendix
Sex: Gelding
Owner: Naples Therapeutic Riding Center
Year Foaled: 2005
Red was donated to NTRC by Lawrence and Susan Isaacs. Their daughter, Aiden, competed in both Western pleasure and hunter o/r successfully with Red. Red loves attention and has captured the hearts of everyone here at NTRC. His friendly, calm demeanor also has made him a hit with our riders. We are confident Red will be a great addition to our herd and we look forward to many years of service.
Therapy Horse Service: Since 2015
Snickers
Breed: Quarter Horse
Sex: Mare
Owner: Naples Therapeutic Riding Center
Year Foaled: 1995
Snickers was donated to NTRC by Mrs. Jill Slack. Snickers has a bckground in Dressage and trail ridering. Her kind and gentle personality has made her a favorite with our volunteers and riders. Snickers seems to enjoy all the TLC she recieves here and has settled into the program with ease.
Therapy Horse Service: Since July 2013
Ted
Ted has become known as the "Gentle Giant" around the barn. The children love his sweet and calm nature. He has background in dressage, but preferred the slower life of a therapeutic riding program.
Breed: Draft Cross
Sex: Gelding
Owner: Naples Therapeutic Riding Center
Year Foaled: 1993
Ted was donated to the NTRC program by Ms. Marilee Tyrell. Ted has a background in Dressage, but he seems to prefer the easy going nature of the NTRC program and its riders. Please don't let his size intimidate you – he is a gentle giant and as sweet as they come.
Therapy Horse Service: Since 2010
Retired Horses
After our magical therapy horses have worked hard and long hours to provide the best therapy service for NTRC's participants, NTRC is dedicated to providing each of them a comfortable retirement situation when the time is right. Some of our horses are retired to a large horse retirement ranch in Texas, while others are carefully located and provided for at a private home/barn.

Dynamite "Dyno"
Breed: Mustang
Sex: Gelding
Owner: Naples Therapeutic Riding Center
Year Foaled: 1985
Dyno was donated to NTRC by Mrs. Mona Raux. He is a true Mustang and was found out West on the range. He has trained in dressage and was quite a handsome fellow in the ring (still is!). His work at NTRC is much easier, and he really loves all the riders. Dyno has a very kind and gentle personality – very smart too – and appreciates all the attention he receives at NTRC.
Therapy Horse Service: From 2006 to 2013
Kokomo Joe
Joe is a big softie and is a huge cuddle bug. He is a very loving boy who strives to do his best as a therapy horse. Joe used to be a Hunter/Jumper, but is now extremely happy keeping all 4 feet on the ground!
We also want to recognize the wonderful horses who are no longer with NTRC, but who have served our riders with patience, kindness, and loyalty over the years.
Colonel * Ibn * Pepper * Lady * Phaser * Silver * Bo * Flash * Navajo * Ditto * Spirit (horses owned by NTRC)
Amber: Owner: Ms. Leslie Terry of Cornerstone Farms
Perfect: owned by Kelli Barr
Beauty: owned by Deborah Stafford-Antonelli
Boomer: owned by Lisa Powers
Brigadier: owned by Jen Hagemann
Copy: owned by Anne Ross
Carbon Copy "CC": owned by Lea Haven
Dottie: owned by
Garth: owned by
Gummy: owned by Melody & Jamie Malo
Katrina: owned by Diana Sheehan
Micah: owned by Ron & Patty Mason
Nickel Less "Nick": Owner: Miss Tina Havemeier
Pennee: owned by Alexandra Casola
Sis: owned by
Sonny: owned by Patricia Cooper
Sundance: owned by Donna Coleman
Taffy: owned by Tiffany Billings
Tank: owned by Tish Kriek Kelly