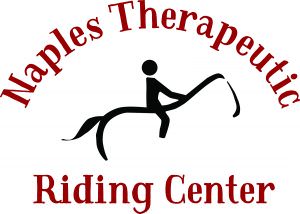 The mission of Naples Therapeutic Riding Center is to improve the lives of children and adults with special needs through therapeutic riding and other equine-related programs.
Naples Therapeutic Riding Center (NTRC) is a therapeutic horseback riding center which began in 1995 as a satellite of the Special Equestrians therapeutic riding center in Fort Myers, FL. The NTRC satellite group began with four volunteers, four children with disabilities and two borrowed horses on a borrowed field. In 1997, NTRC incorporated as a separate nonprofit organization. In 2001, NTRC became a United Way member agency, and in 2003, NTRC became a beneficiary of Naples Children and Education Foundation, founders of the Naples Winter Wine Festival. With the generous support of the community, NTRC has expanded from serving four individuals in 1995 to serving more than 700 individuals in 2017.
In 2000, NTRC became a PATH-Certified therapeutic riding center. PATH (Professional Association of Therapeutic Horsemanship International), is an international accrediting organization which has standardized the practices of equine-assisted activities and therapies. In 2011, NTRC was awarded the prestigious "Premier Center" status by PATH International.
NTRC operates on a 7-acre site which is home to a herd of ten – twelve very special horses. The site includes a covered riding arena, which was generously funded by the Naples Children and Education Foundation in 2006. The arena helps protect our riders and volunteers from the rain and the brutal heat of the summer sun.
Today, NTRC is serving approximately 700 individuals per year through its various programs, which include therapeutic riding for individuals with disabilities, Equine-Facilitated Learning and Equine-Facilitated Psychotherapy programs as well as summer inclusion camps and outreach programs. Participants range in age from 4 to 87 years old. The therapeutic riding programs offered at NTRC foster growth and confidence, empowering riders living with cerebral palsy, Down's syndrome, ADHD, autism spectrum, traumatic brain injury, multiple sclerosis, stroke survivors and developmental delay. Equine-Facilitated Learning and Equine-Facilitated Psychotherapy program participants include children and adults with a wide range of emotional, learning and developmental challenges as well as behavioral disorders.
Click here for the NTRC: Fact Sheet
CLICK ON THE LOGO'S BELOW FOR MORE INFORMATION: