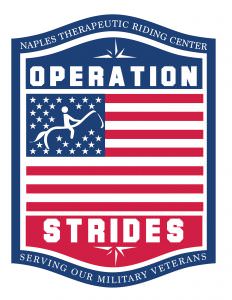 NTRC's Operation Strides is an Equine-Facilitated Therapeutic Horsemanship program with a curriculum geared toward adult veterans from the Afghanistan/Iraq/Gulf Wars suffering from PTSD, TBI and amputation. Therapeutic Horsemanship, which is increasingly being used to treat war veterans suffering from PTSD, incorporates horses experientially for emotional growth and learning. Therapeutic Horsemanship is a collaborative effort between an equine specialist working with participants and horses to address treatment goals. During a Therapeutic Horsemanship session, the participants learn about themselves and others while participating in activities with horses, and then processing (or discussing) feelings, behaviors and patterns. In Therapeutic Horsemanship, the interaction with horses helps military veterans to gain self-understanding and emotional growth. Participants in NTRC's Operation Strides program engage in non-riding and riding activities. Initially, the participants are involved in ground (non-riding) activities involving the horses at liberty in the arena (non-tethered, roaming freely) which requires the participant or group to apply certain skills: non-verbal communication, assertiveness, leadership, teamwork, confidence and observation of the equines are several examples, to complete an exercise. Exercises can be as simple as giving a participant a halter and letting him/her figure out how to approach the horse and put the halter on the horse. In addition, Operation Strides participants engage in riding sessions to experience and develop the skills needed to communicate and work with the horse from the saddle – a more dominant position.
Therapeutic Horsemanship offers military veterans a safe environment in which to work through issues such as:
Confidence, self-esteem and assertiveness
Trust and compassion
Sharpening of senses and self-awareness
Verbal and non-verbal communication skills and social skills
Self concept, goal setting and motivation
Fear, anxiety and self-doubt
Anger and impulses
Physical fitness and body movement
PATH Intl. Equine Services for Heroes
"Appreciating the power of the horse to change lives is our goal," said Professional Association of Therapeutic Horsemanship International (PATH Intl.) Past President Dr. Paul Spiers, "and PATH Intl. wants to provide positive change for these very special lives. Our service personnel have fought to preserve our freedom, and, for many, at a very dear cost. We must be certain that if our wounded service personnel and veterans need and want this kind of help, they will get the best PATH Intl. has to offer."
PATH Intl. Equine Services for Heroes Mission
PATH Intl. Equine Services for Heroes assists military veterans through services provided by PATH Intl. members and by providing leadership and guidance for equine assisted activities and therapies.
To accomplish this mission, PATH Intl. centers connect with Department of Veterans Affairs Medical Centers and Clinics, as well as individual veterans. Veterans of any age can benefit from the program and by being involved with equines.