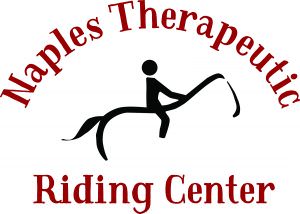 AJ
Seven year old AJ has been riding with NTRC for over two years now. He has fallen in love with all of the horses, but Dynamite continues to be his favorite. For AJ, riding gives him freedom of mobility. AJ has cerebral palsy and is not able to walk unassisted, but on the horse he is free to move in the arena. AJ enjoys being the center of attention while riding. He expresses his enjoyment with his giggles and smiles during his lessons. He has developed a special rapport with the volunteers who assist him during his lessons – AJ's smiles are contagious, and he has won the heart of many volunteers. Through horseback riding, AJ is participating in activities that help him learn his colors, shapes, right and left. During the time AJ has been riding, AJ's parents have seen improvement in his posture and core strength. They find that AJ is able to transition and socialize better and he is vocalizing with more sounds and words. Physically, cognitively, socially and emotionally, therapeutic riding is making a difference in AJ's life.
Hannah
Hannah is 19 years old and has been riding with NTRC for four years. In her time with NTRC, Hannah has never had a day where she did not want to ride. Hannah says that riding at NTRC helps make her self-aware and more in control of her "autistic tendencies". Riding calms and comforts her and helps her clear her head. Riding has helped Hannah build her self-confidence and her independence. Physically, riding has helped Hannah strengthen her core and improve her posture. Riding has also improved her focus and communication. Hannah's favorite horse is Buddy who she is able to ride independently. Emotionally, riding makes Hannah happy; she enjoys connecting with the horses, the other riders and the volunteers who assist her. Growing up with autism can make it very difficult to socialize, make friends and develop relationships. NTRC is helping Hannah to overcome these obstacles. Hannah wrote in an essay, "NTRC allows me to make new and special friends…I created numerous and meaningful friendships…I cooperate with my friends at NTRC by using appropriate social skills such as making eye contact, focusing and listening. I look forward to riding with my comrades on Monday afternoons."
Steven
Steven is 13 years old and has been riding at NTRC since he was 9 years old. During his time at NTRC, Steven has shown consistent improvement in his riding skills, such as using the reins, vaulting and posting. Each session he has become more independent in his riding. Steven stands out as a hard worker, both in lessons and in the barn. Steven is considered a leader to his lesson mates, and his self-confidence shines, especially during NTRC's annual horse shows. Steven's experience at NTRC has an unexpected impact on the whole family, as his mother, Becky, explains, "My son, who has Down Syndrome, has been riding at NTRC for 4 years. During those 4 years, my daughter has been a dedicated volunteer sidewalker and leader at NTRC. In addition, my husband and I have volunteered for some of the organization's special fundraising events. Our entire family is better for our involvement with this amazing organization. My son has gained confidence and poise from his riding, and his speech has improved immensely. He's so proud of his riding ability and his knowledge of how to take care of the horses! Although my daughter has always been compassionate and accepting of others, her volunteer work at NTRC has taken those qualities to a whole new level. She truly loves working with the riders – her volunteer time is the highlight of her week." Steven's time at NTRC has become a special gift that he shares with his whole family, bringing them together.
Nate
Nathan, known affectionately at NTRC as "Nate", is four years old and has been riding with NTRC for almost two years. Nate has autism and when he came to NTRC, the difference in development between Nate and his twin sister was obvious – he just wasn't developing the same way as his sister. His family brought him to NTRC for help in staying on task, maintaining focus and developing his speech. When Nate started riding, he was nonverbal during lessons. But Nate had no trouble communicating that he liked being at NTRC – it was obvious that he liked petting the horses and he loved trotting from the first day he rode Pick A Spot. His lessons at NTRC were designed to encourage him repeatedly to use his words and maintain his focus while participating in games and activities on horseback. After riding at NTRC for several months, he started using about one word per lesson. He has continued to ride weekly, and today he is better focused and uses many words during lessons. Nate has transformed from a solemn, quiet child who had trouble making eye contact into a boy that is brimming with excitement and contagious smiles when he comes to ride at NTRC.
Riley
Riley is a nine year old child with multiple disabilities, including cerebral palsy, developmental delay, seizure disorder and difficulties with speech, hearing and vision. Despite Riley's disabilities, he does take in his environment. His mother, Stacie, explains, "Around his third birthday, we made our first visit to Naples Equestrian Challenge (NTRC). A stiff breeze brought the heavy scent of the barn and horses to Riley as I pulled him out of the car. He began one of the most joyful laughs I had ever heard from him and from that moment he knew this was the place for him." After six years of riding with NTRC, Riley has experienced many benefits. "He has gained so much from the first tentative rounds of the ring to the child who sits up and screams with delight at a trot. Riley is social, so for him I think just interacting with his peers is important. But as a family we have made many wonderful friends from those who understand what we have been through and where we are going. NTRC is a place of acceptance. The instructors, staff, volunteers, horses, fellow riders and their families are now part of our lives. With their help and influence, Riley has continued to gain in strength, ability and emotional well-being. As long as Riley can sit astride a horse – we will be there."
Zach
Zach is turning nine years old and has been riding at NTRC for more than five years. Zach's grandmother, Mary, learned to sidewalk so that she could help Zach in his lessons. Mary has become a dedicated volunteer and avid supporter of NTRC. About a year ago, she wrote to explain what NTRC means to Zach and their family, "Four years ago I carried my three year grandson to the NTRC stables. He was observed and accepted as a rider. Zach couldn't walk because his hip socket was not developing with the ball in the socket. His Mother, our daughter, was told that he would need an operation–she chose riding a horse as an alternative. After four years of weekly riding at NTRC, Zach is walking with a brace and is able to run. NTRC has taught him balance, patience, communication skills and independence. He is able to walk without an operation. Riding has helped him with his speech, listening and concentration skills. Zach not only has special needs, he is autistic. This program has helped him overcome many obstacles, without NTRC we don't know where Zach would be—it has truly been a miracle that NTRC has helped perform."
Jackie
Jackie is an adult rider who has been participating with NTRC since the fall of 2009. She came to NTRC about three years after being diagnosed with Multiple Sclerosis. This is a degenerative condition that can make a person feel like their independence is slowly slipping away. In sharp contrast, during her time with NTRC, Jackie has steadily gained independence on horseback. As she becomes a more independent rider, you can see Jackie's confidence grow. Jackie tells about her experience coming to NTRC in her own words, "I am a woman with MS, and never thought I would ride a horse again. The last time was 30 years ago. I was nervous and excited about starting. It has been a wonderful experience right from the beginning. I ride with several other women that also have MS. The horses are so gentle. The volunteers are amazing. I would not be able to accomplish this without them. They help us get on and off the horses and keep us safe. They are dedicated to taking care of the riders and the horses. You can always tell when a person loves what they are doing and you see it in the faces of both the riders and the volunteers. Thank you! Thank you! Thank you!"