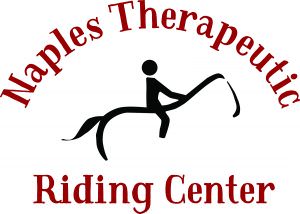 Naples Therapeutic Riding Center's success relies on the generosity of our 200+ extraordinary and active volunteers. NTRC depends on its volunteers in countless ways and they are definitely at the heart of our program. Four certified instructors teach 110 amazing riders each week, most of whom would never be able to enjoy their experiences at NTRC without assistance from the volunteers. Additionally, our equine-facilitated mental health programs (EFL and EFP) serve another 40 – 50 participants each month. The current need for trained sidewalking, leading, grooming and tacking positions requires 270 volunteer slots to be filled each week.
Our volunteers come to us with a variety of backgrounds and life experiences. They are homemakers, teachers, mental health professionals, business professionals, students and retirees. Some, but not all, of our volunteers have experience with horses. Most of all, they are simply caring individuals who understand the importance of providing reliable support, compassion and encouragement to our riders their families. In 2009, our incredible volunteers generously who donated their time and energy for our therapeutic programs, participated in a fundraiser, served on the board or a committee or sweated on a property maintenance project collectively donated more than 25,000 hours of their time and resources on behalf of our riders and their families!
It's no wonder NTRC is well-known for its outstanding volunteers – we are blessed to have the very best!
All of our volunteers are required to attend a training session prior to volunteering for the program. Please contact our program administrator if you are interested in becoming part of our program!
Contact:
Jo Treglown
Program Administrator/PATH Certified Instructor
Email: jtreglown@NTRC.org
Phone: 239-596-2988