Mini Miracles: Discover The Magic of Our Traveling Equine Therapy Program
Though they are physically small, the impact made by miniature therapy horses is vast. NTRC's Mini Horse Program offers on- and off-campus opportunities for equine-facilitated therapeutic services for children and adults with social and mental health needs. 
Visiting with our mini horse team provides the benefits of:
Physical Therapy:

Grooming, leading, braiding, and hands-on activities help promote improvement in range of motion, balance, coordination, and fine motor skills.

Emotional Support:

Horses have incredible sensitivity to human emotions, allowing them to display empathy and sensitivity. Through subtle cues and non-judgmental interactions, our therapy horses help reduce feelings of loneliness and anxiety. Because horses often mirror us, they help inform participants of their emotional state.

Sensory Stimulation:

Mini horses aid in sensory integration and regulation through both their physical characteristics and displays of emotions. Whether it be the feeling of their soft manes or the quiet nicker, our mini horses provide calming interactions that benefit many sensory development goals. 

Confidence Building:

Much like a full-sized horse, our mini horses require confident assertiveness when handled. Horses are herd animals with one prominent leader. When reaching a level of connection with one of our minis as the herd leader, you can expect empowerment to blossom in the participant. 

Cognitive Stimulation:

Through problem-solving and memory games, our mini-horse team can provide the necessary engagement to improve mental agility. 

Social Interaction:

Participants' interactions with our mini horses translate into human-to-human relationships. By engaging with the mini horses, participants can build boundaries, learn how their behavior affects others, practice accountability, create connections, communicate effectively, and enhance engagement with those around them. 

Engagement:

When the mini horses arrive, participants light up with excitement. Our mini-program coordinator has witnessed individuals who were once reserved encourage newcomers to participate in Mini Therapy Sessions. Both participation and motivation levels increase following interactions with our Mini Team. 

Stress Reduction:

Sometimes, all we need is to unwind. The natural calming nature of horses provides a peaceful environment. The presence of horses releases endorphins allowing better regulation of emotions.

Joy:

The cuteness of our mini horses overwhelms individuals with happiness. Their kind, loving nature empowers positivity.
Much like our full-sized equine partners, our Mini Team undergoes extensive training to provide participants with the safest confidence-building interactions. 
Our Mini Horse Team is entirely adaptable. These heart healers can work from inside or outside the comfort of your facility. In addition, they can visit multi-level floored facilities as long as there is an accessible elevator. NTRC's mini horses have visited hospitals, nursing homes, memory care facilities, zoos, group homes, colleges, and public events. 
To Ensure Maximum Safety and Cleanliness, We:
Bathe and Groom the Minis Before Visits

Fit Their Service Vests For Adaptive Situations

Secure Their Hooves With Safe Grip Shoes

Place Potty Bags on Each Mini

Bring a Clean-up Kit (just in case of any accidents)
Booking a Mini Visit is easy! Our pre-visit forms allow us to give your participants the best experience while easing your workload. Obtain your forms by contacting NTRC's Mini Program Coordinator at cvanorsdale@ntrc.org.
The NTRC mini-therapy program was made possible by The Virginia B. Toulmin Foundation.
NTRC would like to introduce you to the most famous faces on campus, Itty Bitty and Raisin. These girls have visited facilities across Collier and Lee Counties, touching the heartstrings of many along the way and even wearing cute outfits while on the town.
Itty Bitty enjoys body scratches, while Raisin's favorite thing is to have her beautiful long mane braided. Itty Bitty is easy to distinguish because of her beautiful blue eye. Both Mini Horses exercise regularly by lunging, but Raisin has a super cool skill, pulling a carriage. Even though she is calm while doing therapy work, she loves to go fast! These tiny girls have huge personalities.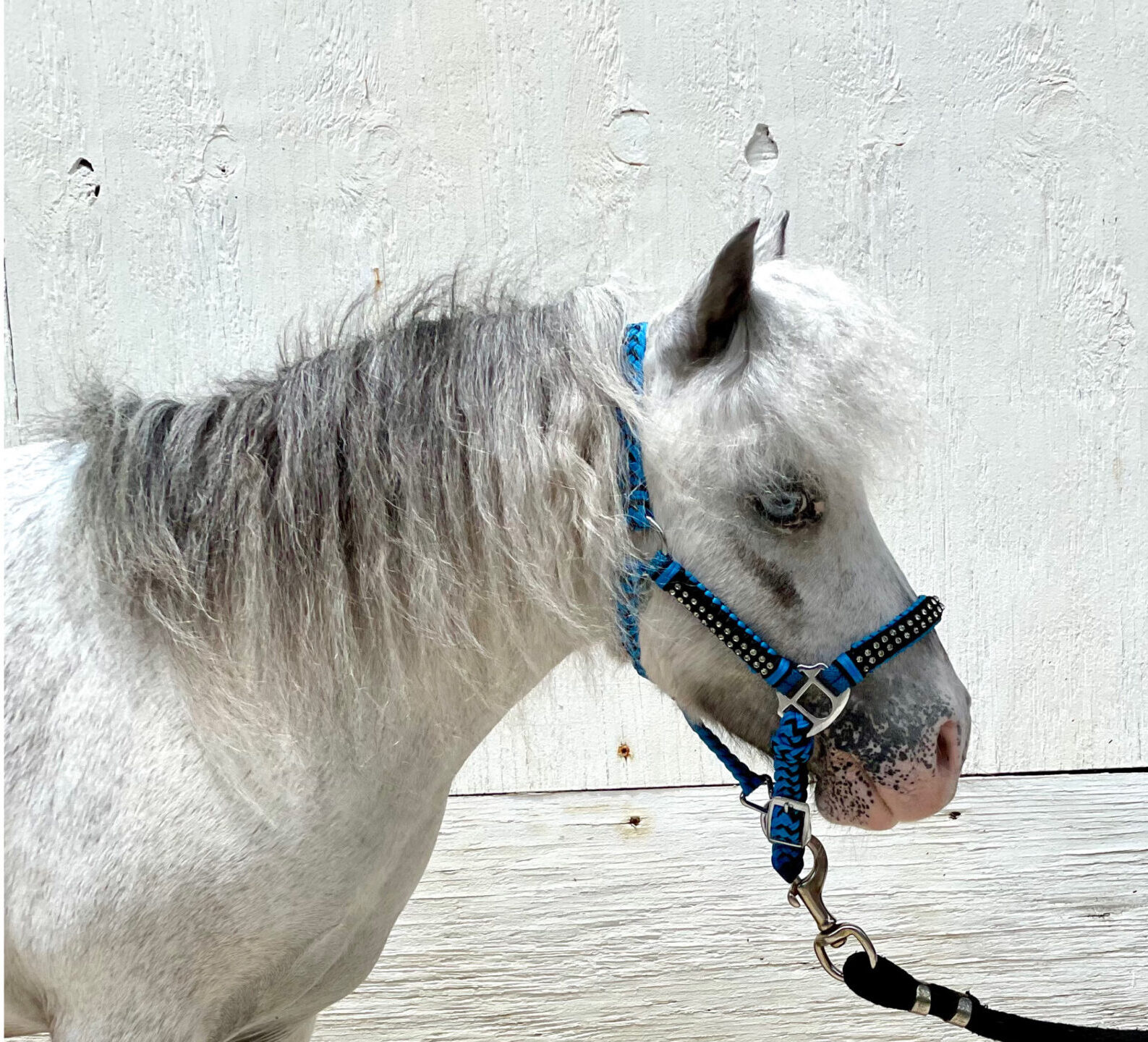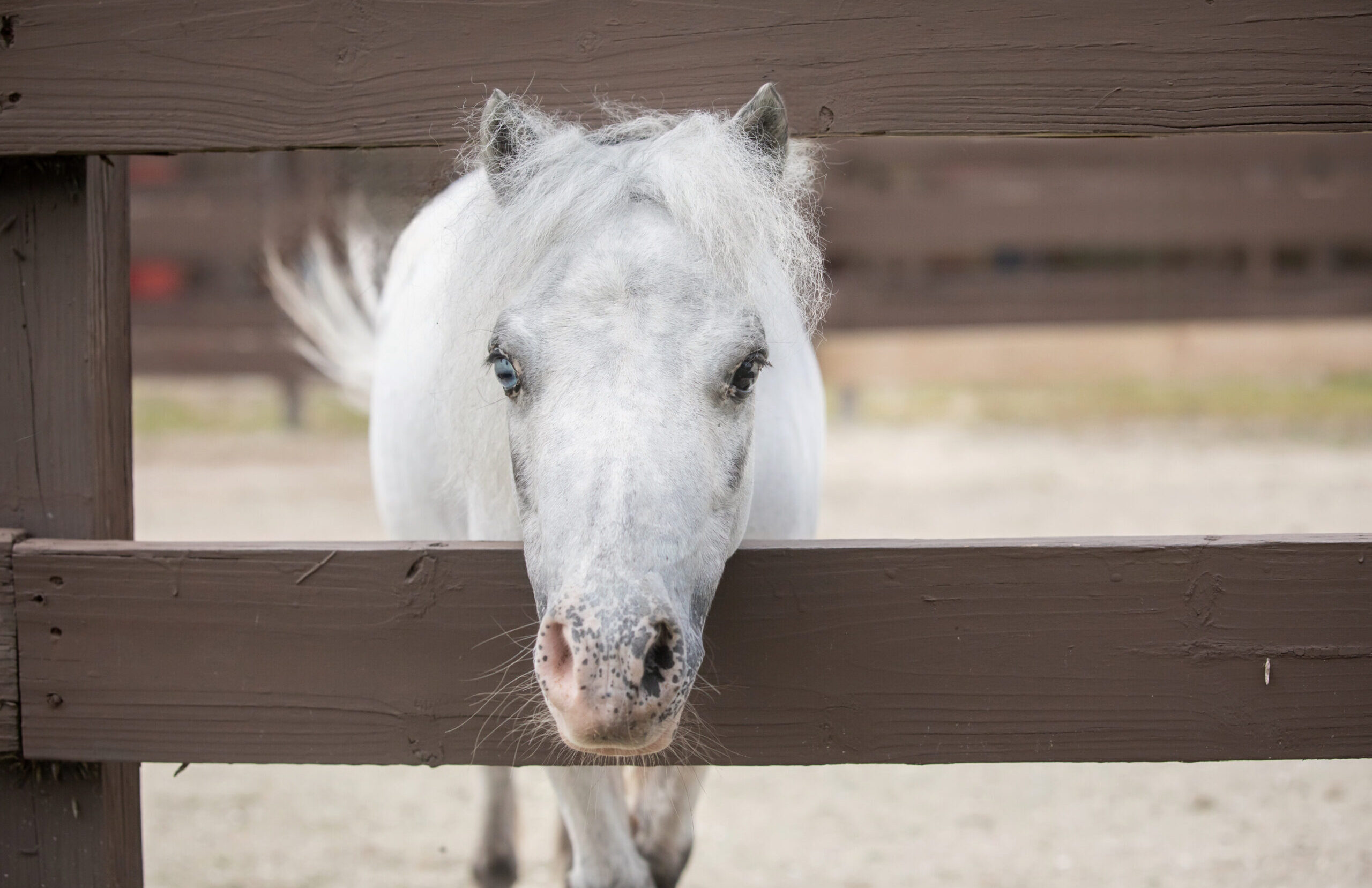 Zoom to Reading Stardom with Little Bitty Literacy
Little Bitty Literacy is a weekly or biweekly reading program using Zoom's video conference platform. This program is open to organizations and schools who wish to increase engagement and add variety in literary learning.
Participants read stories of their choice to our Mini Horse as she reacts in real time. When videoed in, our Mini Horse's comforting voice prompts engagement while encouraging each participant to reach new benchmarks. Watch reading skills such as fluency, phonics, and comprehension blossom each session.
This format is accessible, personal, engaging, and convenient. It allows the same sense of connection that in person equine therapy offers without leaving the comfort of your home or classroom. 
Ready to read? Contact NTRC's Mini Program Coordinator at cvanorsdale@ntrc.org.