Naples, FL – Naples Therapeutic Riding Center (NTRC), a non-profit organization providing therapeutic horseback riding and other equine-facilitated group services to children and adults with physical, social, and mental health needs, announced the addition of local non-profit leader, Martin de St. Pierre, who has nearly 30 years of wealth management, business development, and fundraising experience, as Executive Director.
A Naples resident for over 40 years and a graduate of Naples High School, Martin has extensive knowledge of the local community. He earned his bachelor's degree in political science and third world studies from the University of Richmond and attended graduate school at the Center for Latin American Studies at the University of Florida.
Martin began his twenty-year banking career with Northern Trust Bank working for them in Naples and Chicago. After two decades in banking that included a variety of roles in private banking and trust, corporate and institutional services, and new business development, Martin transitioned to the non-profit world as the Director of Development for The Salvation Army of Collier County – a position he held for the last seven years during a time of capital expansion and substantial program growth which included opening the $5 million Fran Cohen Youth Center and growing revenue annually by 10%.
Martin has been very active in the Naples community serving on a variety of boards related to the arts, education, and children. He is a 2009 Leadership Collier graduate where he served as Vice Chair of the Class of 2011, and Chair of the Class of 2012. He is currently a member of the Collier County Public Transit Committee and Chair of the Barron Collier High School Student Advisory Council.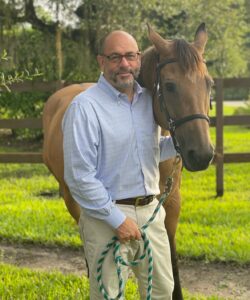 About Naples Therapeutic Riding Center
Established in 1997, Naples Therapeutic Riding Center (NTRC) is a non-profit 501(c)3 organization with a mission to improve the lives of children and adults with physical, social, and mental health needs through therapeutic riding and other equine-related programs. With a dedicated staff, a herd of 16 horses, and the assistance of nearly 400 volunteers, NTRC provides unique equine-assisted therapies to more than 800 participants per year. Through fundraising efforts, the organization is able to provide this vital therapy to those who need the service most, regardless of income level. Services are provided in partnership with local non-profit organizations and through physician referrals for individuals living with special needs and a range of emotional, learning, and developmental disabilities. NTRC is the only Center in Collier County accredited at the "premier" level by the Professional Association of Therapeutic Horsemanship International. For more information on programs or volunteer opportunities, visit NaplesTherapeuticRidingCenter.org or call 239-596-2988.